MAIN STREET DESIGN GUIDELINES COMMUNITY FORUM
Reisterstown, we want to hear from you!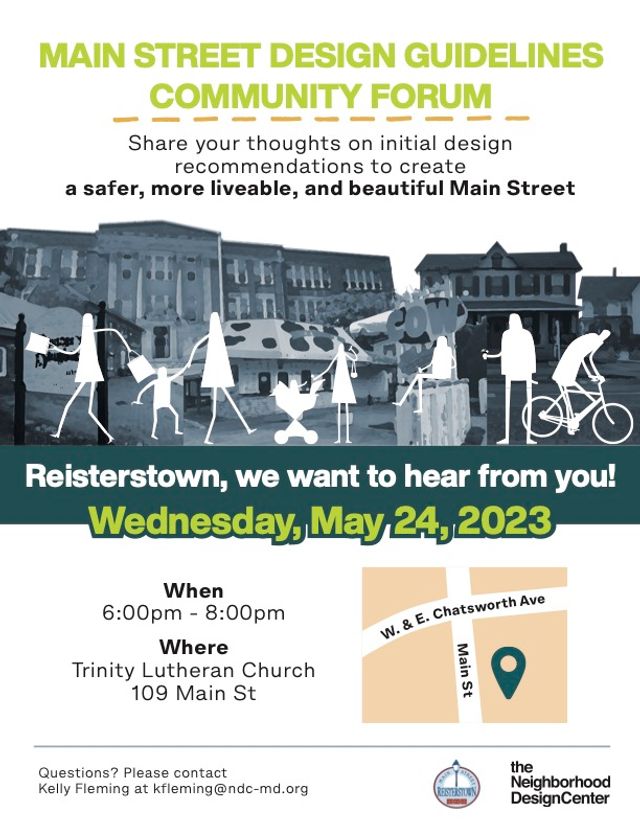 Description
We will be holding a
final workshop
for all those interested in voicing their opinions regarding the work that
Reisterstown Main Street and the Neighborhood Design Center
have been working on for creating design recommendations to guide the future look of the Main Street. This will include features like signs, public art, landscaping, seating, and improvements for connectivity and walkability to understand what is great about Reisterstown Main Street and what can be improved. It will be held in the Trinity Lutheran Church Life Center Room,
MAY 24th
6-8pm.
Please come share your thoughts on initial design recommendations to create a safer, more liveable, and beautiful Main Street!
Trinity Lutheran Church
109 Main Street , Reisterstown , MD 21136
6:00 PM EDT
to 8:00 PM EDT
Private:No
RSVP Required:No
Accept Registration Online:No