Sacred Heart School Of Glyndon presents:
8th Annual Christmas Concert & Winter Festival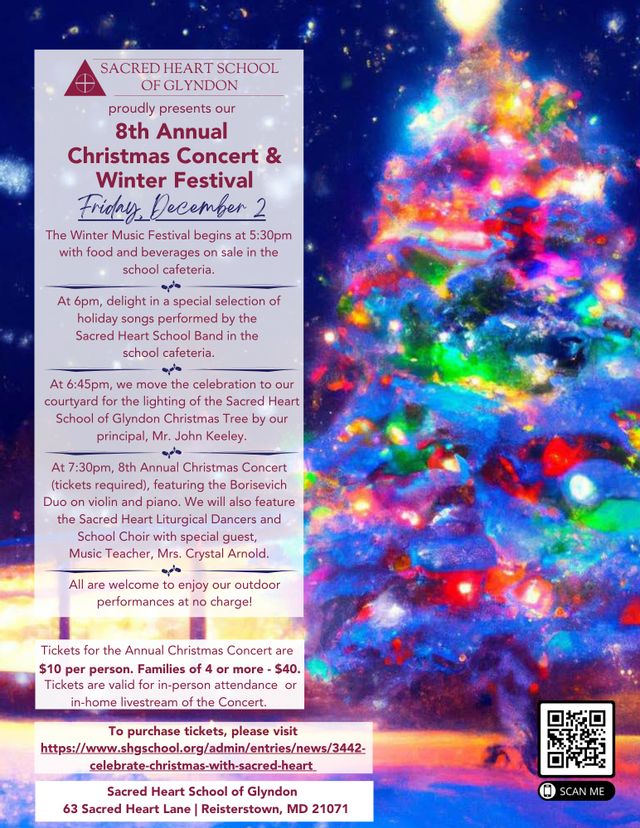 Description
The Winter Music Festival begins at 5:30pm with food and beverages on sale in the school cafeteria. 

At 6pm, delight in a special selection of holiday songs performed by the Sacred Heart School Band in the school cafeteria.

At 6:45pm, we move the celebration to our courtyard for the lighting of the Sacred HeartSchool of Glyndon Christmas Tree by our principal, Mr. John Keeley. 

At 7:30pm, 8th Annual Christmas Concert (tickets required), featuring the Borisevich Duo on violin and piano. We will also feature the Sacred Heart Liturgical Dancers and School Choir with special guest, Music Teacher, Mrs. Crystal Arnold.
All are welcome to enjoy our outdoor performances at no charge!
Tickets for the Annual Christmas Concert are $10 per person. Families of 4 or more - $40, Tickets are valid for in-person attendance or in-home livestream of the Concert.
To purchase tickets, please visit
https://www.shgschool.org/admin/entries/news/3442-celebrate-christmas-with-sacred-heart
Sacred Heart School of Glyndon
63 Sacred Heart Lane | Reisterstown, MD 21071
Sacred Heart School of Glyndon
63 Sacred Heart Lane, Reisterstown , MD 21136
Private:No
RSVP Required:No
Accept Registration Online:No