And the Winning Banner is ...
---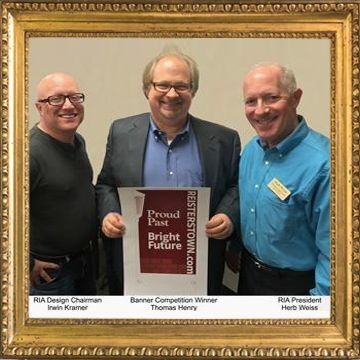 Reisterstown celebrates a proud past and a bright future with the winning entry in a banner competition that featured many creative and enticing entries.
After weighing several creative entries, RIA's Design Committee selected a banner designed by Thomas Henry of No Other Name Studios.
This competition challenged designers to provide a bold, simple and creative banner that will give commuters a reason to slow down and stop along this historic route. The winning banner must be visible at a distance and engage the commuter while traveling. Each entry was judged on originality, visual appeal, and impact.
In the view of RIA's judges, Mr. Henry's entry met all of these criteria, capturing the heart of the past, present and future of Main Street. "Tom was able to demonstrate in a simple banner what Main Street is all about; having a proud past with a bright future," said RIA President Herb Weiss.
"After touring the community one spring afternoon," Mr. Henry observed that "Main Street in Reisterstown clearly resonates as one of the top 15 small cities in Maryland. I hope my contribution gives Main Street increased recognition as a national gem."
"These banners will proudly display the names of community sponsors over the next two years," according to RIA Design Chairman Irwin Kramer. "As in past years, the names of businesses, organizations and residents will greet visitors with a 'Who's Who' of Reisterstown's most ardent supporters."